Seeking to put God's love into action, Habitat for Humanity of Harvey County brings people together to build homes, communities, and hope. Habitat's vision is a world where everyone has a decent place to live.
Habitat for Humanity cares for the vulnerable by helping families with need acquire safe, affordable housing.
Habitat promotes justice by helping families to break the cycle of poverty through the building of long-term financial security.
We bring together families and volunteers to meet local needs with local solutions.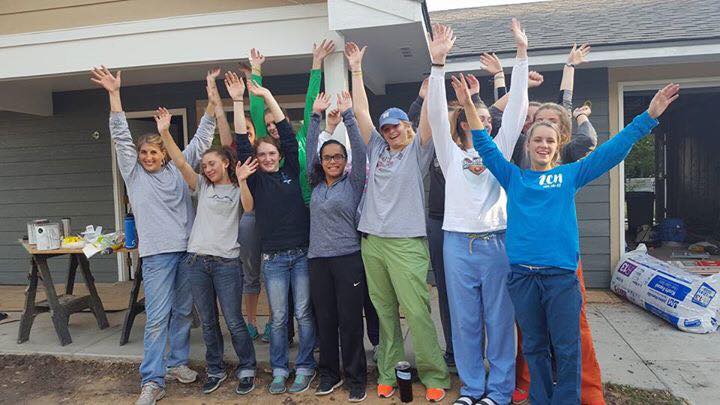 Habitat for Humanity of Harvey County will not proselytize, nor will we work with entities or individuals who insist on proselytizing as part of their work with Habitat for Humanity. This means that Habitat for Humanity will not offer assistance on the expressed or implied condition that people must adhere to or convert to a particular faith or listen and respond to messaging designed to induce conversion to a particular faith.
It is our goal is to build one home each year for a Harvey County family who needs improved, safer housing and who cannot secure a bank mortgage. As of 2022 we have built 18 homes. With affordable housing, families have more resources for food, child care, education, and medicine.
Family selection is based on level of need, annual income and ability to make a monthly mortgage payment. The home is not free; families must complete "sweat equity" hours and pay the mortgage.
Our homes are built through
Private donations
Grants
Discounts from local companies and licensed workers
Volunteer labor
An annual fundraiser
Approximately 50 volunteer laborers build each home under the guidance of local contractors. Over 20 contractors supply free or discounted labor. A volunteer board (retired contractors and persons involved in real estate, banking, law, social work, marketing and fundraising) directs the work of Habitat for Humanity of Harvey County.
make a donation
Harvey County Habitat for Humanity partners with local organizations and our community to provide the materials and support for each project.
Learn how you can help us continue our work.
See donation options
Ron Flaming | Chair
North Newton
Leadership Coach and Organization Development Consultant
Michele Ediger | Vice Chair
Walton
Retired
Richard Friesen | Treasurer
North Newton
Retired
Karen McCabe Juhnke | Secretary
North Newton
Retired
Bob Evans
Newton
Retired Founder of Double A Auto Parts
Sylvia Bartel
North Newton
Realtor, Weigand Realty
Kendra Davila
Newton
Community Outreach, Peace Connections
Brian Donley
Valley Center
Manager, Bank of the West
Reece Hiebert
Walton
Adrian & Pankratz - Attorney
Crystal Toews
McPherson
Primary Residential Mortgage, Inc - Branch Manager | Loan Officer
Allen Wedel
Newton
Retired CFO, Bethel College
David Wuthnow
Newton
CFO, GraceMed Health Clinic
Glenda Ledesma
Newton
Realtor, Weigand Realty
John Miller
Hesston
Financial Advisor/Owner, Longview Advisors
Brad Schmidt
Newton
Director of Alumni Engagement, Bethel College
Chris Allen | Ex Officio
Newton