Liability Release Form
If you would like to volunteer with Habitat for Humanity of Harvey County, we ask you to review our Liability Release form. If possible, please print and complete prior to volunteering. This form must be signed annually by every volunteer.
With Habitat for Humanity, you have the opportunity to help families achieve the strength, stability and independence they need to build a better life. Ready to make a difference?
At the house
We partner with local professionals to pour concrete, install plumbing, electricity, and cabinets. However, we welcome volunteers with all skill levels to pitch in! If you're ready to join us, contact us and we'll get you connected with a crew leader.
Support the crew
If you'd like to play a more supporting role in the house build, Harvey County Habitat for Humanity is always looking for individuals or groups to provide lunch and refreshments to our volunteers. Contact us to get more information!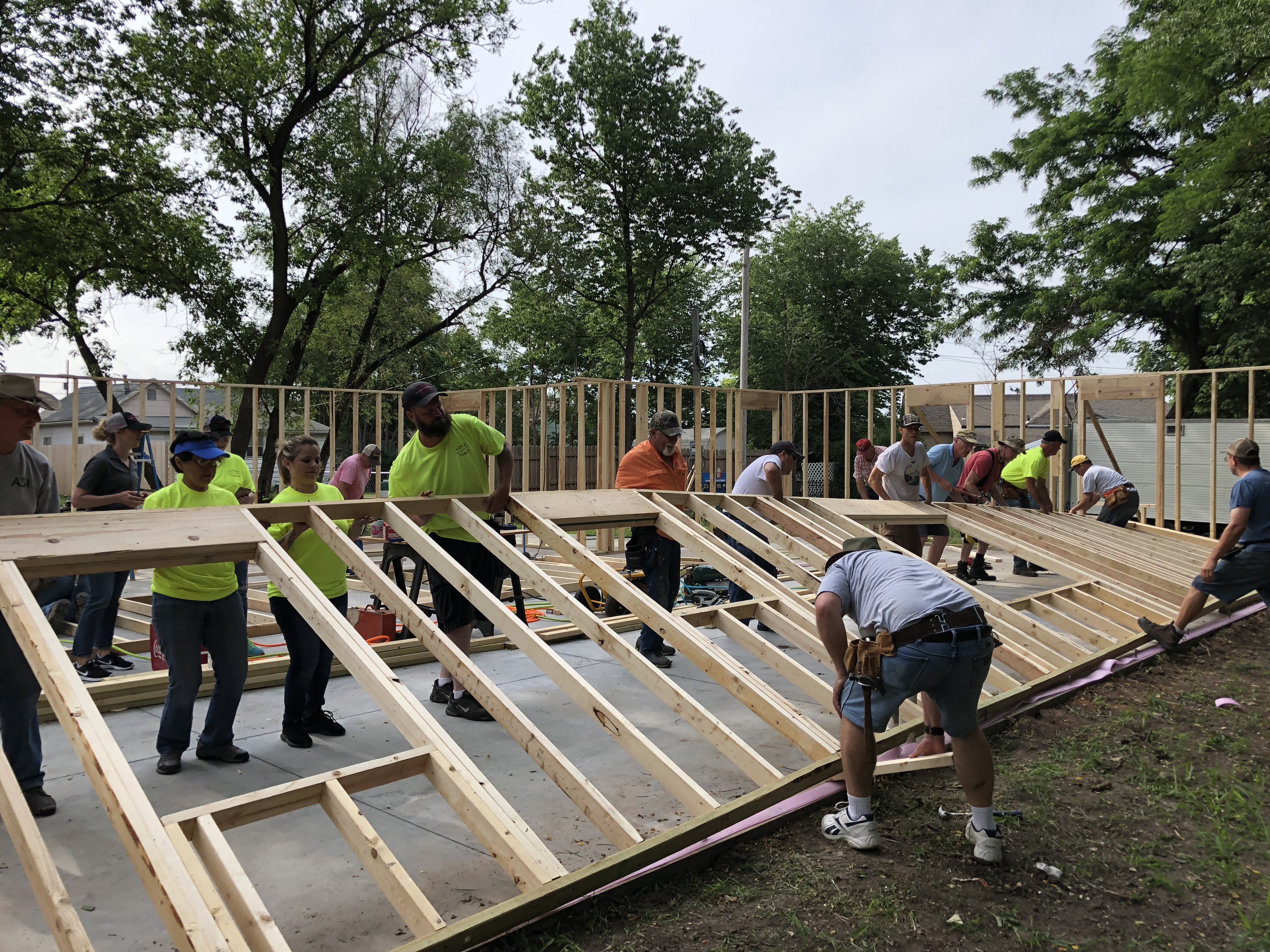 These local contractors and businesses contribute to Harvey County Habitat. We cannot build Habitat homes without them. When you see them, thank them for their generosity and give them your business.
Builders Concrete – concrete
Bumper to Bumper – use of specialty tools
City of Newton – Mark Jenkins
Dale Aldefer – drywall finish
Faith Mennonite Church – facility use
First Presbyterian Church – window coverings
Flemings Seamless Guttering – guttering
Grabers Hardware – hardware
Grabers Plumbing & Heating – plumbing & heating
Halls Tree Service
Hardwood Supply – finish wood
Harvey County – lot donation
Heritage Construction – roof framing
Hesston College – Cleo Koop & students
Hesston Decorating – flooring & tile
Ian Stewart – siding
Kansas Electric – all electrical supplies & labor
Klingenberg Farms – windows & exterior doors
Kropf Lumber – lumber
Mid-Continent Cabinetry – cabinets
Robb & Robb – legal advice
Roofing Unlimited – shingles & labor
Security 1st Title, LLC – title work
Sturdi Bilt – garage door & opener installation
Vogts Parga – concrete work
Wray Roofing – shingles
Join one of our Habitat committees for a short term assignment. Help with the annual fundraiser, make meals or snacks for the work crews, mentor a homeowner, provide accounting expertise. Let us know your gifts and we will put them to use.