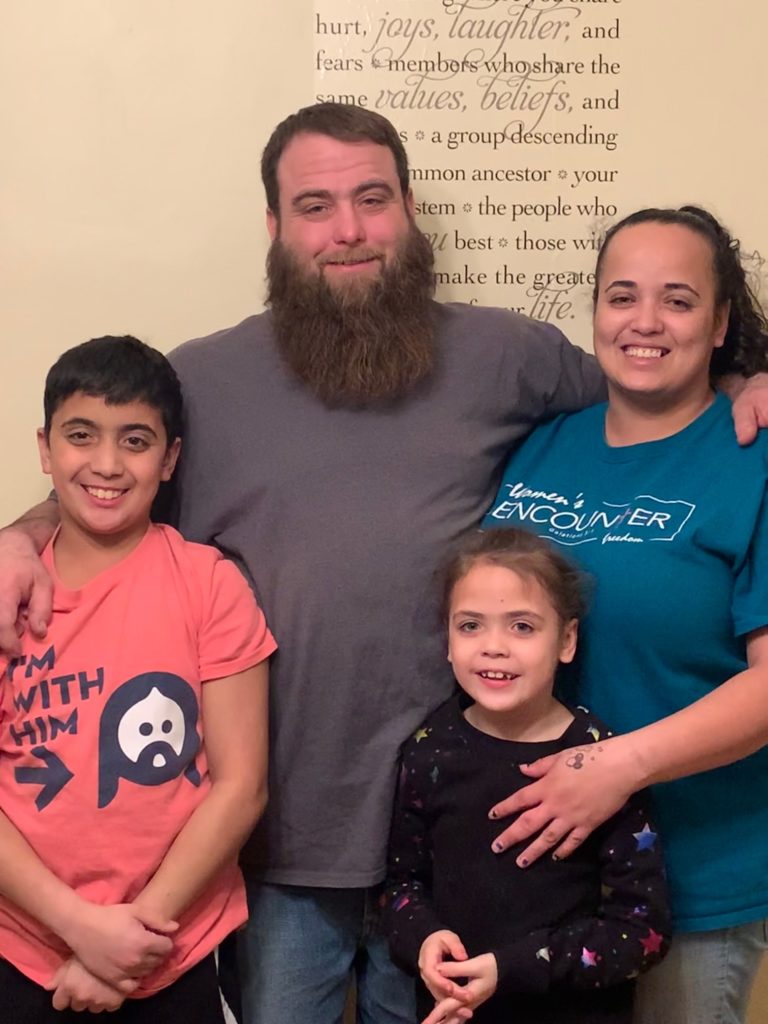 It is with much gratitude and great joy that we introduce you to our 2020 Homeowner partners, David and Kyra Henry. Like many Habitat applicants, they were initially unsure if they wanted to apply. Would they qualify? What if they didn't, could they bear another disappointment, especially after a long year of many disappointments, heartbreaks and challenges? Luckily they decided to take the chance, and now here they are, taking their first steps toward home ownership.
David, who grew up in Salina, and Kyra, who grew up in Denver, both relocated to Newton several years ago to be closer to family. They met through one of those family members, and it wasn't long before they had fallen in love. They began their journey together 13 years ago, and have been married for almost 7 years.
David has an adult son who has 5 year old twin boys, and a daughter who is almost 3. Kyra and David try to stay as involved with them as they are with their two younger children, Amaris and Ella. Amaris is a 7th grader at Chisholm and excels in math. In his spare time he enjoys skateboarding and riding his bike. He's very resourceful, building his own ramps from neighbors' castoffs. Ella is a 1st grader at Sunset Elementary. She's involved with Girl Scouts, takes ballet and is a self-proclaimed pop star, belting out her favorite songs on their front porch, not wanting to deprive neighbors of her gift.
David has worked for J & M Ag Service for over 10 years, repairing large ag equipment. Kyra has been a CNA, waitress, and worked for Walmart. She currently stays home to care for her children and grandchildren. She has had some physical challenges, but she has an indomitable spirit and has not allowed these challenges to defeat her. The love in their home is obvious, from the pictures and sayings on the walls, to the way they look at each other.
They attend Newton Christian Church and Kyra enjoys participating in their Women's Encounter events. She also loves movies, in particular Disney movies. She's very excited about a March trip to Disneyland their family will be taking – a Christmas gift from their extended family. David said his favorite three things are fishing, work and BBQ. In that order.
When asked if they had any challenges they had overcome that they were proud of and would be willing to share – they both looked at each other, and shifted in their chairs with obvious discomfort. They did not need to share anything that made them feel uncomfortable. I sensed that they had a need to share their story, and how they were feeling a fresh sense of accomplishment with how far they had come. They shared a deeply painful, personal incident that occurred over a year ago. Kyra spoke of how angry they felt toward God. They have now released these things back to God, and have a new sense of His will for their lives, and a renewed sense of peace. The incident is far from over, their family will likely be dealing with the repercussions of it for a long time to come, but in the middle of this storm, they know God is good.
Being accepted as our next Habitat owner feels like further evidence of this truth. They are eager and grateful to be part of our Habitat community. I hope you have the opportunity to meet them soon.